Environmental, Social and Governance (ESG)
Badger Meter creates flow measurement products for a sustainable future - because Every Drop Counts. We promote sustainability in our products/solutions and our operations - combining economic success, social responsibility and environmental protection in our business operations, thereby enabling our customers to manage and preserve the world's most precious resources.
ESG Governance: The ESG Steering Committee of Badger Meter was established in 2018. Led by the VP-IR, Strategy & Treasurer, the ESG Steering Committee is comprised of cross-functional leaders from major disciplines including sales, engineering, operations, human resources and legal. The committee meets regularly to guide and drive sustainability and other ESG efforts and monitor progress. Representatives of the committee provide regular reports to the CEO and annually to the Board of Directors of Badger Meter. See the ESG Committee Charter here.
Policies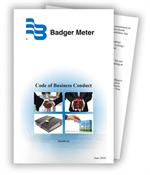 Code of Conduct
All of our employees are committed to upholding the standards outlined in the Code of Conduct.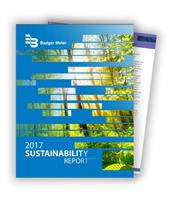 Sustainability Report
Badger Meter published its inaugural Sustainability Report in fall of 2018 utilizing baseline 2017 data. We expect to report on a biennial cadence beginning in summer 2020 for 2018 and 2019 performance.
Our President's Message
Sustainability has been vital to Badger Meter since our founders invented the frost-proof water meter in 1905. That invention helped people measure their water use even during the harsh months of winter in Wisconsin. Today, our smart metering and flow instrumentation solutions help municipal utilities and a wide range of industries throughout the world measure virtually anything that moves through a pipe. In the process, we deliver long-term value to our investors, employees and customers by providing solutions that help our customers manage and conserve the world's most precious natural resources.
As a corporation, Badger Meter pursues continuous improvement initiatives in three major sustainability categories:
OUR PRODUCTS help our customers save water and other natural resources through our highly accurate metering and analytics solutions.
OUR OPERATIONS include socially responsible supply chain practices and responsible use of resources in the management of our facilities
OUR PEOPLE are a major source of strength and we strive to cultivate and maintain a healthy, productive and engaged workforce while contributing to the communities and industries in which we are a part.
We are proud of our success and the progress we continue to make. Our sustainability team and the company as a whole remain dedicated to helping our customers efficiently use resources, to practice what we preach in our operations, and through our dedicated and engaged workforce we continue to make our company and the world a more vibrant place.
Ken Bockhorst, President